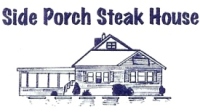 established 1976
5689 Stage Road
Bartlett, TN 38134
901-377-2484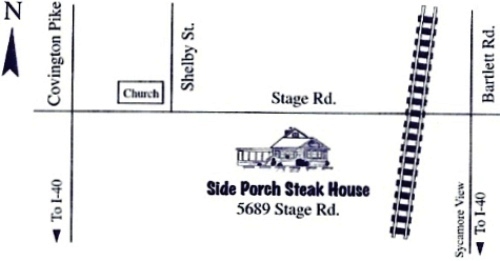 HOURS:

Tuesday, Wednesday, Thursday:

4:30 p.m.-8:30 p.m.

Friday and Saturday:

4:30 p.m.-9:30 p.m.
Family-owned since 1976, Side Porch Steak House is Bartlett's oldest steakhouse. Our steaks have been voted as Bartlett's BEST many times. Located in historic Bartlett Station at the corner of Stage Road and Shelby Road, Side Porch is conveniently located in the heart of Bartlett, but away from the congestion of Wolfchase and downtown Memphis. Carry-out orders are available, and ask us about our frequent diner program!
M E N U

APPETIZERS

Deep Fried Mushrooms
Fried Shrimp
Fried Cheese Sticks
Grilled Spicy Shrimp
Stuffed Jalapeno Poppers
Fried Vegetable Sticks
Hot Wings
Fried Dill Pickles
Onion Petals
ALL APPETIZERS FRIED IN PEANUT OIL

SPECIALTIES
All entrees include salad and your choice of baked potato, steak fries, or vegetable medley.

Steak

8 oz. Filet
12 oz. Filet
14 oz. New York Strip
14 oz. Ribeye
20 oz. T-Bone

DESSERTS

Homemade Pecan Pie
Homemade Chocolate Chip Pecan Pie
Homemade Brownie Sundaes
Cheesecake
Key Lime Pie
Lemon Meringue
Coconut Cream Pie

SALADS

Fried or Grilled Chicken Salad
Grilled Steak Salad (7 oz Ribeye)
Dinner Salad
Salad Dressings: Homemade Ranch, Homemade Blue Cheese, French, Tousand Island, Honey Mustard, Italian, Oil & Vinegar, Fat Free Ranch, Fat Free Raspberry Vinaigrette

Seafood

Grilled Fish (2 Tilapia Filets)
Grilled Salmon
Spicy Grilled Shrimp (12)
Fried Shrimp (10)

DRINKS

Coke
Dr. Pepper
Sprite
Diet Coke
Lemonade
Sweet Tea
Unsweet Tea
Coffee

Chicken & Chops

Grilled Pork Chops (2 center cuts)
Grilled Chicken (2 breasts)
Chicken Tenders (6)

HOW STEAK IS DONE
Rare: Seared on outside, red on inside
Medium Rare: Light red to pink & juicy
Medium: Pink & juicy
Medium Well: Mostly gray with a little pink
Well Done: Cooked all the way through

2 Baskets of our homemade croutons are complimentary!

Combos

Steak & Grilled Spicy Shrimp (8 oz filet)
Steak & Chicken
Grilled Spicy Shrimp & Chicken